In a Dark Time, You've Helped us Keep Hope Alive.
For those with eyes on the Islamic Republic of Iran, the events of 2019 proved a grave reminder of the bitter realities of a government and a judiciary which fail to respect citizens' most basic human rights. During the year, Abdorrahman Boroumand Center for Human Rights in Iran continued to bring these violations to light and hold perpetrators accountable through documentation and advocacy. In times of darkness, your support of our mission is crucial in keeping hope alive for the future.
In terms of the right to life specifically, Iran made welcome changes in 2019 by continuing its downward trend in death penalty numbers: from 509 (in 2017) to 261 (in 2018) to 251. In fact, 2019's execution figure marked the lowest ABC has tracked in the decade, largely resulting from a reduction in drug-related capital sentences pursuant to a legal reform that took effect in late 2017. Though a positive development, the numbers still place Iran among the world's most active executioners. Of the 251 people executed in 2019, four were minors at the time of their capital crime, and 26 were put to death on nonviolent drug offenses. These instances categorically violate Iran's commitments in international law, which obligate it not to execute minors and only apply the death penalty for "most serious crimes," which involve intentional killing. Whatever their charges may be, defendants continue to be vulnerable in Iran's judicial system, where lack of due process is rampant.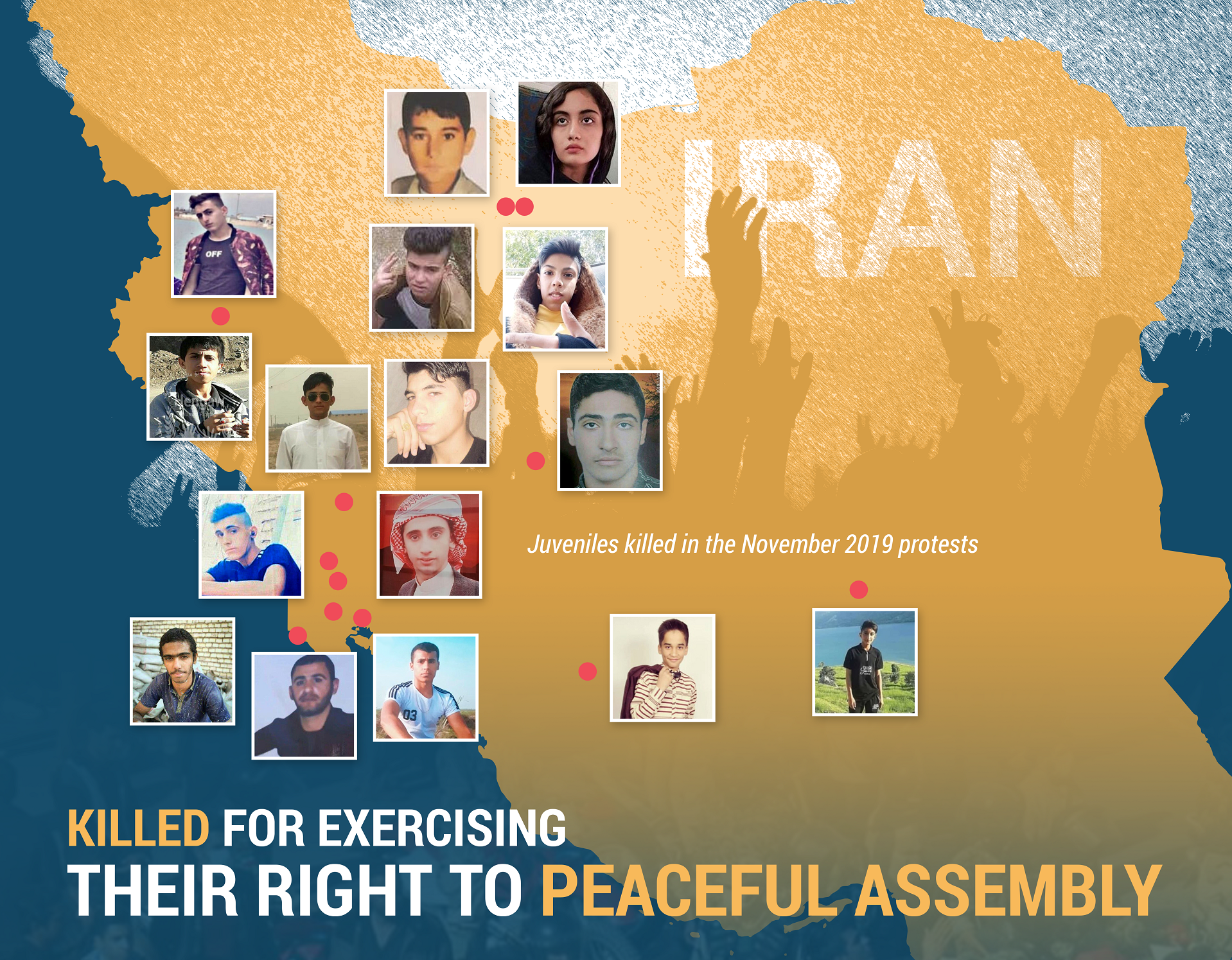 Hopes in the area of the right to life were devastated late in the year, as reports began to surface on November 15 that the state had responded to widespread protests sparked by the announcement of a sudden increase of gas prices with a brazen disregard for basic fundamental rights. Iranians that took to the streets were met with violent repression: Amnesty International reported that at least 304 people were killed in the course of the crackdowns, a toll higher than the number of executions for which ABC has collected reports for the entire year. While facts are still being collected, the final count of protest casualties is believed to be much higher, by some reports as many as 1,000.
(For more information on the November 2019 protests, read ABC's Newsletters:"On Protests: Hold Iran Accountable Or Worse May Lay Ahead" and "Human Rights Day 2019: Dedicated to the Most Recent Victims of Iran's Intolerance of the Right to Peaceful Assembly").
Against this backdrop, ABC has continued its work to document and memorialize human rights violations and propagate information to strengthen the culture of human rights and democracy.

ABC's year began with the launch of our human rights defenders timeline, a resource documenting four decades' worth of the Iranian state's assault on legal professionals who sought to defend their clients and the rule of law. The timeline features in-depth reporting on lawyers such as Nasrin Sotudeh, Amir Salar Davoudi, and Mohammad Najafi who continue to linger in prison because of their legal work.
In 2019, ABC brought forward mobilizing narratives of agents, victims, and collateral damage behind the Iranian judiciary's penchant for capital punishment:
-Former prison guard Anvar Aqdam speaks of his firsthand experience with death row prisoners and the Iranian penal and criminal justice systems (video interview)
-Shahin Milani discusses growing up without a parent after his father was killed for his religious activities as a Baha'i (video interview)
-Homa Shahsavaripour relates the lasting trauma of her father's execution when she was nine years old (video interview)
-Children's rights activist and human rights researcher Hamed Farmand recalls a childhood experience of his uncle being executed for involvement in an opposition group, and how this traumatic experience impacted him and lead him to his calling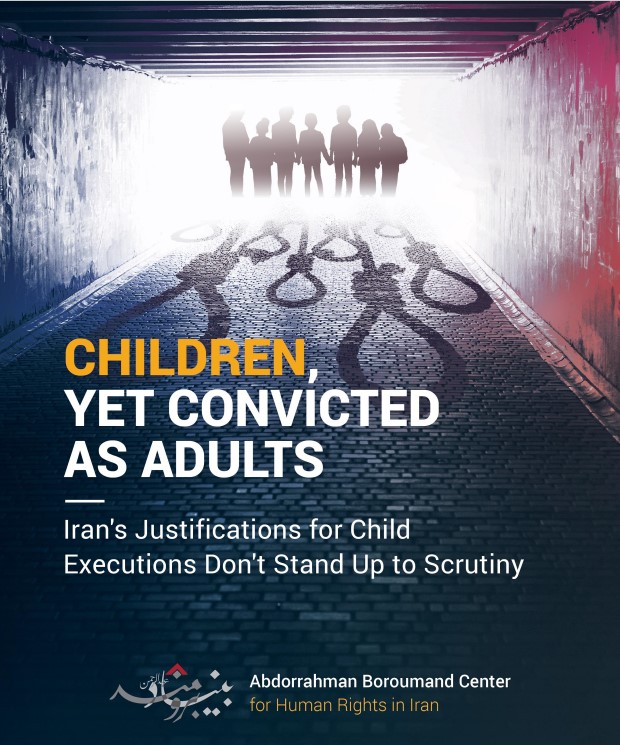 In 2019, ABC debuted an extensive report on the execution of juvenile offenders titled: "Children, Yet Convicted As Adults: Iran's Justifications for Child Executions Don't Stand up to Scrutiny." With an eye to specific cases ABC has documented, the report takes a detailed look at this aspect of Iran's right-to-life crisis and demonstrates the harsh dissonance between Iran's historical tradition and international commitments on one side, and its current religious and "cultural" justifications for juvenile offender executions on the other. Modern science, Iranian civil society, academics, and religious jurists are brought in to debunk prevailing state arguments on the subject.
ABC also continued to provide reports which set current human rights violations in context, thus garnering crucial support from both general and specialist audiences. We delivered analyses in the form of newsletters, ranging in scope from cases like that of Amin Korki -- a young man living in Dezful, Khuzestan who was arrested amid January 2018 protest crackdowns only to turn up dead shortly thereafter in suspicious circumstances -- to that of a spring Majles proposal which stood to further compromise an already-threatened right to due process in Iranian law -- to the case of Mahdad (Shahu) Malahi, an ethnic Baluch livestock trader sentenced to capital punishment in just two month's time for the deaths of two Coast Guard officers in an incident witnesses say was an accident -- to widespread protests in November 2019 which were met with state-sponsored violence, the latter initially unbridled amid ominous statements from Iranian officials which portended even worse violations without a decisive international response (the UN High Commissioner for Human Rights echoed these concerns in a December 6 statement calling for the immediate release of all protestors who had been arbitrarily deprived of liberty).
The year also saw the expansion of the Omid Memorial, which has continued to incorporate stories of those who fell victim to state violence. ABC added over 350 new cases in the course of the year, bringing the total number of Omid entries to more than 24,900. They include:
-Vahid Heidari, a young man who died in police detention after being arrested in the crackdown on the protests of January 2018. ABC was particularly alarmed by the implications of Heidari's case for individuals who were more recently arrested during the November 2019 wave of protests. Not only did this young man lose his life, but lawyer Mohammad Najafi was given jail time and a flogging sentence for attempting to follow up on his untimely death.
-Vahid Mazlumin, who was executed in November of 2018 after being convicted of economic corruption by a special tribunal. As his conviction and execution coincided with a wave of public discontent over the country's dwindling economy,many viewed Mazlumin as a scapegoat used to divert public attention from the state's accountability in these matters.
-Kambiz Sadeqzadeh Milani, a psychiatrist and member of the Baha'i' National Spiritual Assembly who disappeared in 1980 after Revolutionary Guardsmen attacked the Assembly's meeting place and is presumed dead. His son Shahin Milani was the subject of an ABC interview on the effect that this disappearance has had on his life.
-Alipanah Malmir, another victim of "qassameh." When a young man was killed over the course of a group altercation and the courts failed to produce enough evidence to convict a perpetrator, ten of the victim's relatives swore to Malmir's guilt before the judge, effectively sentencing him to death despite glaring incongruities in the case. Malmir was hanged in October of 1990.
The firsthand witness account of Rezvaneh Mohammadi, a young woman who was recently arrested, accused of "propagandizing for homosexuality," and forced to leave Iran, was likewise published by ABC, increasing public awareness of the severity and frequency of persecution on the basis of sexual orientation.
ABC's communication with the international community develops in tandem with its active engagement with people still residing in Iran. Throughout 2019, ABC continued to educate Iranians about fundamental principles of human rights, the rule of law, and administration of justice. To this end, we published a Persian translation of the International Bar Association's 2007 commentary on the rule of law, as well as a series of legal FAQs regarding the fundamentals of fair trial, which were informed by real-world court cases and drafted by ABC's legal expert.
In conjunction with the collective efforts of the greater human rights community, ABC's outreach has helped draw the international community's attention to the ongoing crisis of the right to life and due process in Iran.
In February-March of 2019, ABC's Executive Director presented compelling research on drug-offense capital punishment to audiences poised to push for change: first at an event hosted by Harm Reduction International, which took place in Brussels during the 7th World Congress Against the Death Penalty, and then at an event hosted by the Iran Human Rights Documentation Center at the United Nations in Geneva, where the Special Rapporteur on the Situation of Human Rights in Iran was in attendance.
In early November, Iran underwent its third UN Human Rights Council Universal Periodic Review (UPR), a mechanism established in 2006 by which UN member states assess, in 4.5 year intervals, the human rights performance of their peers. Member states, following consultations with civil society groups including ABC, suggested recommendations to representatives of the Islamic Republic. In October, in line with this process, ABC's Executive Director delivered an address regarding the death penalty and due process in Iran before a panel of UN member state delegates organized by UPR Info, as well as at a meeting of EU member state delegates. ABC also co-authored research submissions on the state of the death penalty and drug policy for the UPR process and presented its comprehensive report on juvenile executions to delegates of UN member states in Geneva.
The international community's demands of the Iranian government reflect core areas of ABC research and advocacy, made possible by your support. At UPR, Ukraine, Sweden, Belgium, Austria, Czechia, Denmark, Estonia, Germany, Chile, Canada, Norway, Moldova, Ireland, Israel, and New Zealand called on Iran to cease executions of juvenile offenders; Germany, Switzerland, the United States, Bahrain, and France insisted on elements of free trial including the right to freely access a lawyer of one's choosing and protections against coerced confessions, an issue regarding which ABC staff in Geneva have been particularly vocal; and Albania recommended that Iran permit "open and public debate on the question of the death penalty with all actors in society."
For more than seventeen years, ABC's small team has consistently punched above its weight, making large-scale impacts on the human rights scene in Iran and abroad. Maintaining this work and its independence is only possible with the support of people like you. As the new year begins, please consider donating: Help us mobilize the voices of victims into a force for change.