Human Rights Day 2019: Dedicated to the Most Recent Victims of Iran's Intolerance of the Right to Peaceful Assembly
Mina Sheikhi, a 59-year-old mother of six from Saqqez, was cooking dinner during a visit to her daughter's house in Tehran. Dressed in Kurdish clothing, she was drawn to the roof along with many neighbors by the sound of protests on the street. Three bullet strikes later – one to her chest - from the direction of a neighboring roof, she lay dead. Was she a threat to national security? ( Taken from Abdorrahman Boroumand Center's interview with an informed source)
As November 2019 Protest Stories Emerge, We Begin the Work of Documentation for Truth Telling, Remembrance, and Accountability
As more information about those killed in Iran's crackdown on protests, which rocked the country during the third week of November 2019 emerges, Abdorrahman Boroumand Center for Human Rights in Iran dedicates this #HumanRightsDay to the most recent victims of arbitrary killings, who had nowhere to express their grievances but the street.
Despite Iran's blackout on information, human rights groups and some media outlets are trying hard to count and identify victims. Amnesty International has estimated 208 and HRANA 227: the true number of victims is likely to be higher. Many more have been arrested and some wounded, raising serious concern for their lives in detention. The General Prosecutor of the Islamic Republic seemed to take pride in this lack of transparency and the blatant violation of Iran's obligations under international law, declaring on November 30 that "Fortunately, people outside the country have no access to figures and information [regarding protest-related deaths]." Today, we call on the International Community to hold the government of the Islamic Republic accountable for the use of deadly force against unarmed protesters and withholding of information regarding victims and detainees. Statements of concern alone have had little impact on the current situation. Iranian leaders do not expect serious consequences for their blatant violations of the country's international obligations; the kind of consensus and resolve shown in the face of Iran's nuclear ambitions. How many more lives must be shattered before the international community proves them wrong? We dedicate this Human Rights Day to the individuals named below, a random selection of those whose deaths have been reported. Remember them and share their names: don't let the Iranian government pretend they never existed. For a summary account of the November 2019 protests in general and the mass killing in Mahshahr, Khuzestan, see the end of this email.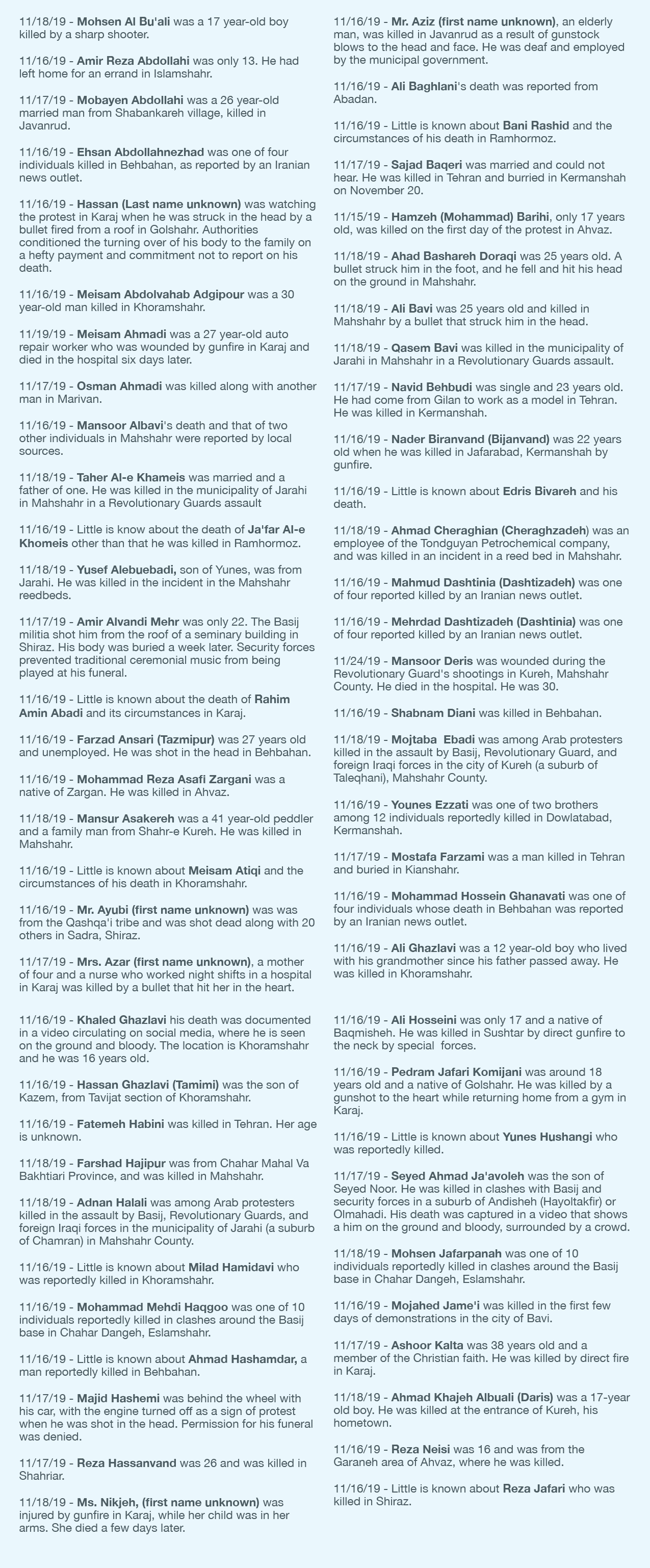 As new information comes to light, this list only grows...
November 2019 Protests
Just before midnight on November 14, 2019, the Iranian government announced a sharp increase in the price of gasoline (50% for subsidized gas and 200% for unsubsidized gas). The very next day, countrywide protests broke out in response. Based on available reports and video footage, non-violent protesters gathered in public places across the country on November 15 and 16, blocking off roads and stalling traffic. Protesters chanted anti-regime slogans* and called on fellow citizens to turn off their vehicles. By the evening of November 16, banks in some areas had reportedly been set on fire, and gunshots were audible in some videos filmed on the ground. That same evening, Iran imposed a countrywide information blackout by cutting off citizens' access to the world wide web. The blackout, which lasted for at least ten days, undermined the people's ability to organize or report on the state's brutal response to their protests.**
Iranian authorities' response to unarmed protesters was swift, disproportionate, and deadly. As early as November 16, leaders of the Islamic Republic made statements indicating their intolerance for citizens airing grievances in public. They accused protesters of "evildoing" and connections to foreign powers, warning that punishments for property damage would be harsh. The first casualty was reported on November 15 in Sirjan and Ahvaz. On November 16, casualties increased with deadly shootings by security forces in several cities. In videos sent from Iran, security forces can be seen using firearms and aiming at protesters in circumstances that do not appear to be life-threatening. Plainclothes militias can also be seen beating and arresting protesters. In some footage, protesters block roads, gather before police stations and government buildings, or chase away security forces with stones. Banks, seminaries, and other public structures in several provinces have been damaged or set on fire, reportedly by angry protesters, while security forces can also be seen damaging properties. The protests, which spread to scores of cities (120), roads and localities outside urban areas, were quashed within a few days.
At the time of this writing, the exact number of casualties remains unknown. In many reported cases of protester injury or death, authorities have taken the wounded or deceased into custody. In an effort to obscure the account of events, authorities made families commit to silence and/or pay various sums of money in exchange for their loved ones' remains; some were forced to hold burials at night under security surveillance. On December 2, 2019, Amnesty International reported at least 208 deaths linked to the protest crackdown. Many protesters were shot in the head or heart, hundreds more were injured, and many remain unaccounted for. Iran has refused to release statistics about the protests' casualties, but has acknowledged the death of five members of the security forces. According to one parliamentarian, at least 7,000 were arrested during and in the wake of the protests. Official reports about detainees' self-incriminating "confessions" in the immediate aftermath of the protests, reports from overcrowded prisons and detention centers, and the overall lack of transparency have raised serious concerns about the safety of detainees.
* Slogans included: "We are just tired," "What a mistake we made with the revolution," "Reza Shah, may your soul rest in peace," "Death to the dictator," "We will get our rights, we will not accept indignity," "How long should the money of Iranians go to Gaza and Lebanon's pockets?," and "We are people, not hooligans. Gas should be cheaper"
** After ten days, Internet access for homes was partially restored in most provinces (except in Khuzestan and Sistan and Baluchestan), but mobile internet services remained suspended through early December. Landline phone services and the national Internet, which can be more easily controlled by the state, allowed communications throughout this period.
November 18, 2019 Incident at the Mahshahr Reed Beds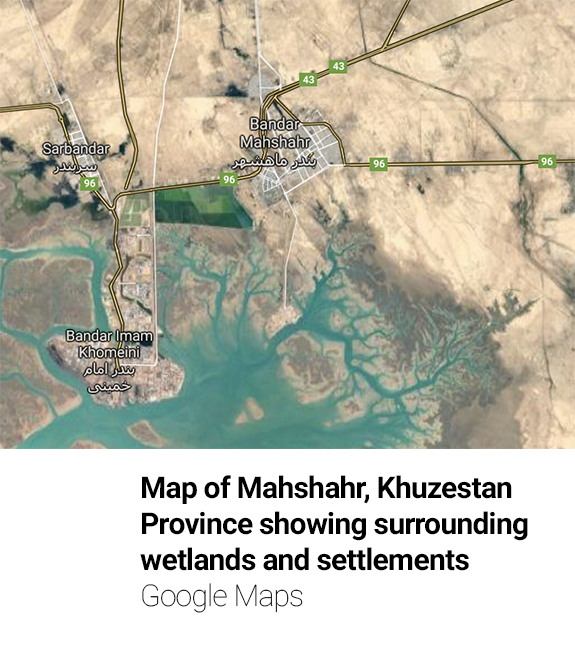 Protest activity reached Mahshahr, Khuzestan - an Arab-majority coastal city in Iran's southwest, flanked by smaller settlements and reedbeds - by November 16, 2019. Protesters blockaded roads into the city as well as economically-important ports nearby.* In the first two days of protests in this region, no damage to banks or other property, nor clashes with state forces (reportedly limited to local law enforcement at the time), were reported.**
On November 18, 2019, however, a special-forces unit of the Revolutionary Guards moved against protesters with deadly force.*** At the time of this writing, reliable data on the details of this event remain limited: security presence was heavy in this area, and the internet blackout lasted longer there than in other parts of the country. State officials first reported seeing armed protesters on November 18, though firearm ownership and its use during various ceremonies are common in the area.
Based on credible reports, security forces initially fired non-lethal ammunition at protesters, who fled to a nearby marsh. Security forces then pursued and encircled the protesters, firing live ammunition that killed and injured a number of protesters. While some were subsequently taken into custody, others fled back to the urban area, where shooting reportedly continued from both sides. The protesters were eventually chased back into the marsh by security forces, who continued to fire their weapons, resulting in more deaths (at least 30 identified at the time of this writing) and woundings.**** A commander of security forces was also killed by gunfire.*****
* IRNA, December 1 2019 https://plus.irna.ir/news/83576489
** ABC interview with an eyewitness to events at Mahshahr, November 30 2019
*** ABC interview with Karim Dahimi, November 30 2019; IranWire, December 2 https://iranwire.com/fa/features/34517
**** ABC interview with Karim Dahimi, November 30 2019
***** NAJA Martyrs News Base, November 23 2019 https://bit.ly/2YwVxbW