For close to forty years, the leaders of the Islamic Republic of Iran have claimed to protect the downtrodden. The revolutionary courts, however - deaf to the pleas of the most vulnerable, blind to evidence, facts, and sometimes the laws themselves - punish poverty and addiction with a hanging rope.
On August 24, 2016, twelve death row prisoners were reportedly taken to solitary confinement from various wards of Karaj Central Prison (Nedamatgah Makazi) Prison to be executed. Among them is Alireza Madadpur, a young man who was at the wrong place at the wrong time and had the bad luck of being tried by Judge Farajollahi at Branch 4 of the Revolutionary Court of Karaj.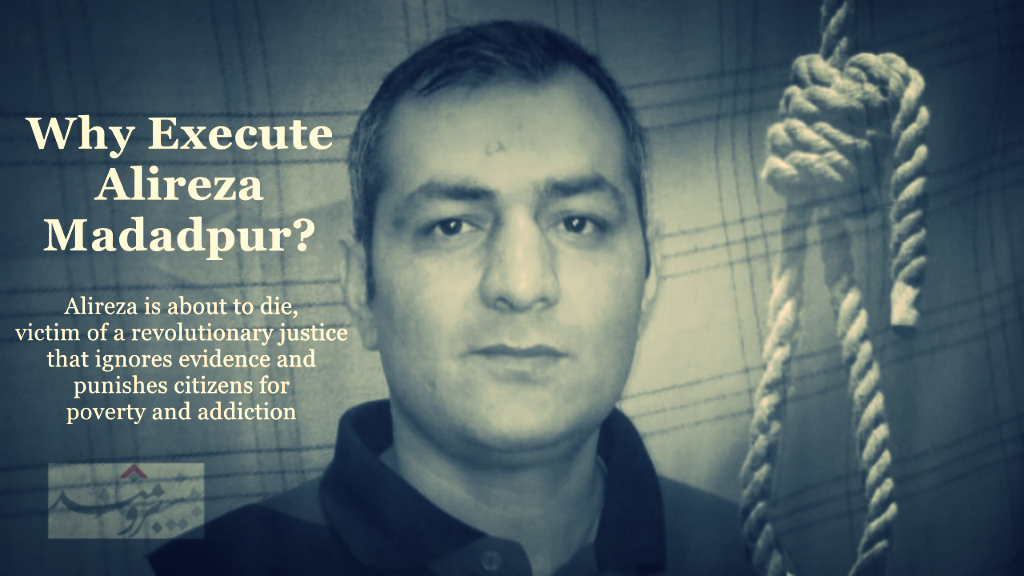 Alireza's story is not uncommon. His family was poor, he was his family's breadwinner, and like so many other young Iranians he struggled with drug addiction. Alireza had studied to be an accountant but his financial circumstances forced him to abandon university a few months before earning his bachelor's degree. Lack of hope for the future drew him to drugs and addiction.
In the fall of 2011, Alireza - always in search of additional income - accepted his colleague's offer to take over the care and cleaning of a house. He was 34 years old. He was dropped at the house early on the morning of November 12, when the house inhabitants were still asleep. He sat there waiting for them to wake up, but the police raided the house and arrested him and two other men he had never met before. 990 grams of crystal meth were discovered along with ingredients to produce the drug.
Like many others, Alireza was held incommunicado for weeks and interrogated. By the time his interrogation was over, he had lost so much weight that according to an eye witness, he looked like "a skeleton." Like many others in his case, he could not afford a lawyer. Less than two weeks before trial, the state assigned him a lawyer who never took the time to meet with him.
The judge was deaf to the persistent denials of Alireza and the testimonies of his two co-defendants claiming that they didn't know him, and that he had not participated in the drug production
Judge Farajollahi tried the four men indicted in the case, including Alireza, on July 17, 2012. Like he had done in many others cases, and after just twenty minutes of review, Farajollahi decided that they all should be fined, lashed, and hanged for possession of drugs and precursor chemicals. The judge was deaf to the persistent denials of Alireza and the testimonies of the two men arrested with him who insisted that Alireza had come to the house for cleaning work, that they didn't know him, and that he had not participated in the drug production. He also ignored the fact that Alireza had no criminal record, had never been arrested before, and that there was no evidence of any connection with the men who were arrested in the house.
Alireza's calls for pardon were also rejected, as was his request for retrial in 2015. Letters sent by his co-defendants from prison and written recommendations and testimonies from prison authorities affirming his moral fiber and positive attitude were also ignored by the prosecution and the Supreme Court. As in other cases documented by the Abdorrahman Boroumand Foundation (ABF), his family's efforts to draw attention to his innocence proved to be futile. Such powerless people are simply invisible to judicial authorities.
Alireza's family, who are among the most vulnerable citizens that the leaders of the Islamic Republic claim to protect, will only sink more deeply into poverty by losing their loved one and sole breadwinner. Iran's judiciary has no justification for this wrongful conviction. Nor does it have any valid justification for the execution of drug offenders in the first place.
Judge Farajollahi and those responsible for rejecting Alireza's request for retrial and pardon have also ignored Iran's anti-narcotic law, which requires proportionality between the punishment imposed and the amount of drugs discovered. The death sentence does not explain the nature of Alireza's involvement at the house, or whether drugs were produced while he was on the premises. It also fails to elaborate on the reason for his conviction. The presence of a person on the scene of a crime is not sufficient to prove guilt.
ABF has recorded close to 8,000 executions in Iran since the year 2000. At minimum half of those executions were drug related. In 2015, at least 69% of the 1,050 executions reported were on drug charges. Though Iranian authorities do not release numbers or details about executions, drug control authorities and experts have time and again acknowledged that the execution of drug offenders has failed to reduce addiction or deter trafficking. Many recognize the negative impact of these executions on families and society.
The death sentence fails to elaborate on the reason for his conviction.
At a time when Iranian lawmakers are considering the repeal of the death penalty for unarmed drug offenders, rushing the execution of death row prisoners is unreasonable and cruel. Iranian authorities should stop these executions and encourage legal reform and transparency in revolutionary courts. They must free Alireza and return him to a family which has already seen so much injustice.

Abdorrahman Boroumand Foundation
August 24, 2016